What is Click2Sync?
Click2Sync is a brand new and completely free service offered by Forpost Trade for our customers that sell by drop-shipping as well as for those that sell wholesale.  It allows for the synchronization of your e-commerce account with our website so that any product info such as images, updated stock, dimensions and descriptions goes directly from our website to your e-commerce platform.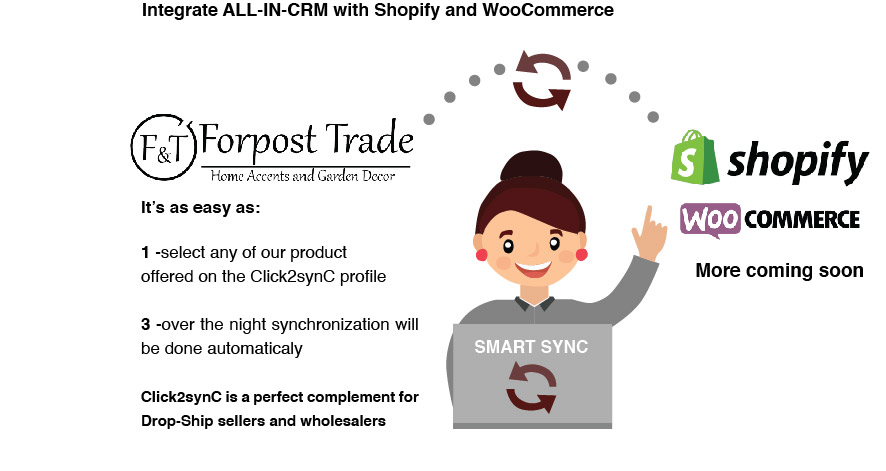 What are the Benefits?
Click2Sync removes the manual labour of entering every item's information into your e-commerce account by hand and of updating stock as the program refreshes daily, providing the most accurate stock of any Forpost Trade items you sell.
How Does Click2Sync Work?
Once we review your form and check to see if Click2Sync is compatible with your website, we will contact you with a screen-sharing link.  Clicking on the link you will be guided through a few steps to achieve synchronization and create you Click2Sync account.  You will be able to select any of our products to sync onto your e-commerce site and once you make the selection, within 24 hours the product info will appear on your e-commerce site.
What if I wish to Synchronize More Items?
You are able to sign into your Click2Sync account and add more items for synchronization, the results should appear by next morning.
What E-Commerce Platforms Does Click2Sync Cover?
Currently, Click2Sync works for Shopify and WooCommerce however we are currently working on integrating more compatible options.
I Would Like to Sign Up, What Do I Do?
Click the link below and answer the 3 questions to see if you qualify for Click2Sync and to check if we cover your e-commerce platform.